We all have a budget, and if you think you can't build a quality new home within yours, we're here to tell you that you absolutely can! "Building new" doesn't always mean building the most expensive option. With careful thought and planning, you can build and live in a beautiful new home in Omaha, NE, no matter your budget. 
Home Design on a Budget
1) Prioritize what's most important to you 
When you think of home, there are probably a handful of features that you would absolutely LOVE to have, and one or two that you absolutely MUST have. Prioritize what is most important to you and allocate the money in your budget for it, then determine where you can spend less. For example, if you MUST have solid flooring throughout the home instead of carpet to minimize allergies, then you can opt for a gorgeous laminate kitchen countertop instead of quartz. Don't feel like you have to give up on your wish list to stay within your budget!
2) Stick with included features and finishes
Many home builders offer a list of included features and finishes in every floorplan. We use this as a starting point for pricing. While many customers will upgrade items like flooring, countertops, and fixtures, opting for the already-included ones will keep your costs down. Mind you, the included features are very nice! They've been selected by our professional designers so that even at the most basic cost level, your home will turn out beautifully. Plus, even with included features there are color and finish choices, so that you can still personalize your home to reflect your unique style.
3) Opt for a simple home design 
A home with a very simple roofline and a square or rectangular footprint will be the most cost effective to build. With every roofline change (this is known as a "pitch"), the cost of design, materials, and labor increases. You can always create more curb appeal with landscaping, exterior lighting, and front porch decor — and you can add these over time as your budget allows.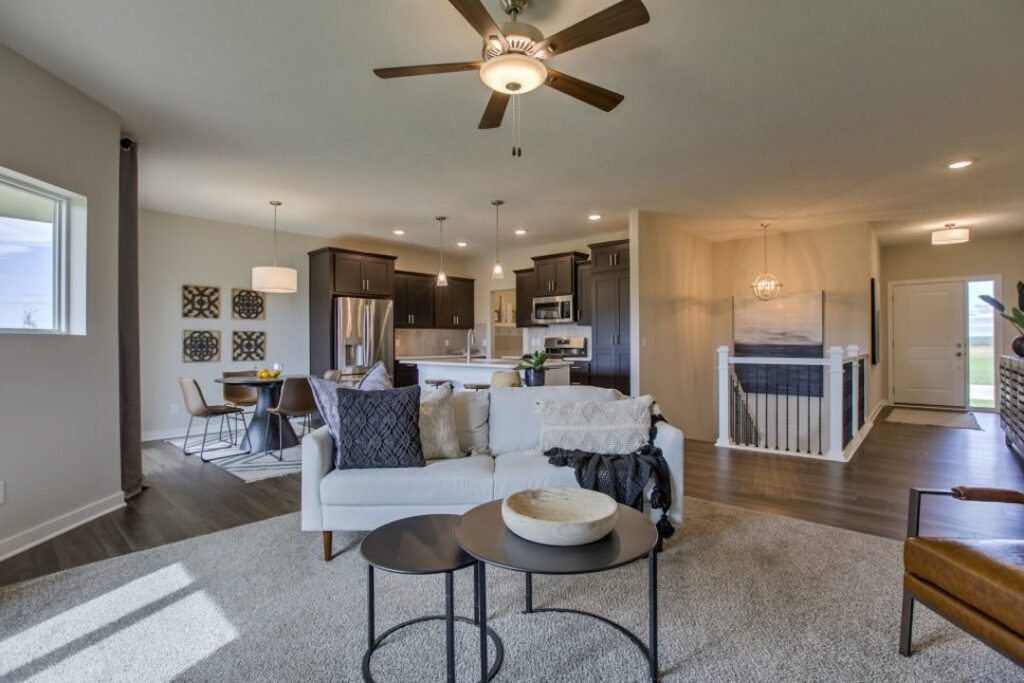 4) Scale down
A small home doesn't have to mean a cramped home. Even our smallest floorplans are carefully planned and built to maximize interior square footage. Our floorplans of all sizes feature open-concept designs, kitchen islands, owner's suites, closet storage, and much more. And if you really need the space, it's often less expensive to build up (two stories) rather than build out (one story). 
5) Include energy-efficient everything 
If you are building within a budget, chances are you are also living within a budget (aren't we all!). Cut down on your monthly expenses by choosing as many energy-efficient appliances and systems as you can. They may cost slightly more on the front end, but they quickly pay for themselves as you save on energy costs. The Home Company offers many energy-efficient systems as included features, such as: 
50 gallon gas water heater

95% efficient gas furnace

13 Seer air conditioner

R19 wall installation (craft faced batt insulation)

7′ insulated raised panel garage door(s)
6) Hire a home builder with a proven process
The more efficiencies there are in the building process, the less money and fewer materials a builder wastes during construction. The Home Company's process is proven, but it's also simple, fast, and efficient! Our team is experienced and knows the building process inside and out, which makes for a smoother experience for you. Plus, with our proactive approach to communication, you'll never have to guess what step of the construction process is next. We can also troubleshoot any concerns before they amount to bigger issues.
Interested in learning more? Contact us. We'd love to talk numbers, walk you through our process, and show you how it can be done!